Prepare your child for reading success by reading to them 1,000 times before they enter kindergarten.
1,000 Books Before Kindergarten is a nation-wide movement of parents and caregivers dedicated to getting children ready to read before kindergarten, creating the foundation of a lifetime of learning.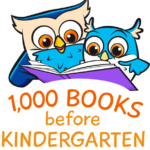 How do I participate?
Visit a LARL library location to sign up for the program.
Pick up reading logs and a book bag.
Begin reading!
When you complete a log, bring it to the library for a sticker.
When you've read all 1,000 books, visit the library to celebrate completing the program.
How long does it take to complete the program?
Every child and family situation is different. Some may finish the program in a few months and others may take a few years. There is no rush.
The only end date is your child's first day of kindergarten. By reading just three stories a day you will have read over 1,000 books in one year.
Don't forget that every time you read a book it counts. If your child has a favorite, go ahead and count it each time you read it. You can also count all the books read at storytime, daycare, grandma's house, and more.
Why does it matter?
On average, Americans spend two hours a day watching TV and only seven minutes reading.
According to Words Alive, 20% of American adults read below the level needed to earn a living wage.
2 out of 3 adults not reading proficiently by the end of 4th grade will require government assistance, and some will be incarcerated. At that point, they have a 79% chance of not catching up. (Minnesota Literacy Council)
Reading to children is an essential step towards combating poverty and crime. By reading to your child, you are building a foundation for success in school and life.
Explore More Resources
If you'd like to use technology to track your 1,000 Books before Kindergarten reading progress, you may find the 1,000 Books before Kindergarten app useful. Download it from iTunes here and from the Google Play Store here.
For more information about literacy development, visit ZERO TO THREE.